Village Coffee is where the heart is in Scottsdale.
Village Coffee is where the heart is in Scottsdale. They have been a main stay in Scottsdale for 15 years, which is something to brag about, since very few coffee shops and coffee roasters, which happen to be in one building, get to boast about.
I have been aware of Village Coffee for quite some time, but my schedule has always been at a cross purpose. Finally though, not this time, and a I am very glad it worked out for me.
What is the shop like?
Once you park your vehicle in the ample parking lot, you are greeted by a large patio that is well maintained, and not overcrowded with table and chairs. I saw quite of few people out there enjoying the weather with their dogs, and a cup of their favorite brew. Inside you are greeted by a well-maintained blue coffee roaster that is the work horse of Village Coffee.
The lobby and counter blend well, allowing an easy flow. You place your order, and you can easily see the fresh baked goods and the food menu as well. All the food is made there at their kitchen.
How is the coffee?
It is frankly quite good. I had a cappuccino that was on the mark, and a pumpernickel bagel that I would put up against any NY deli.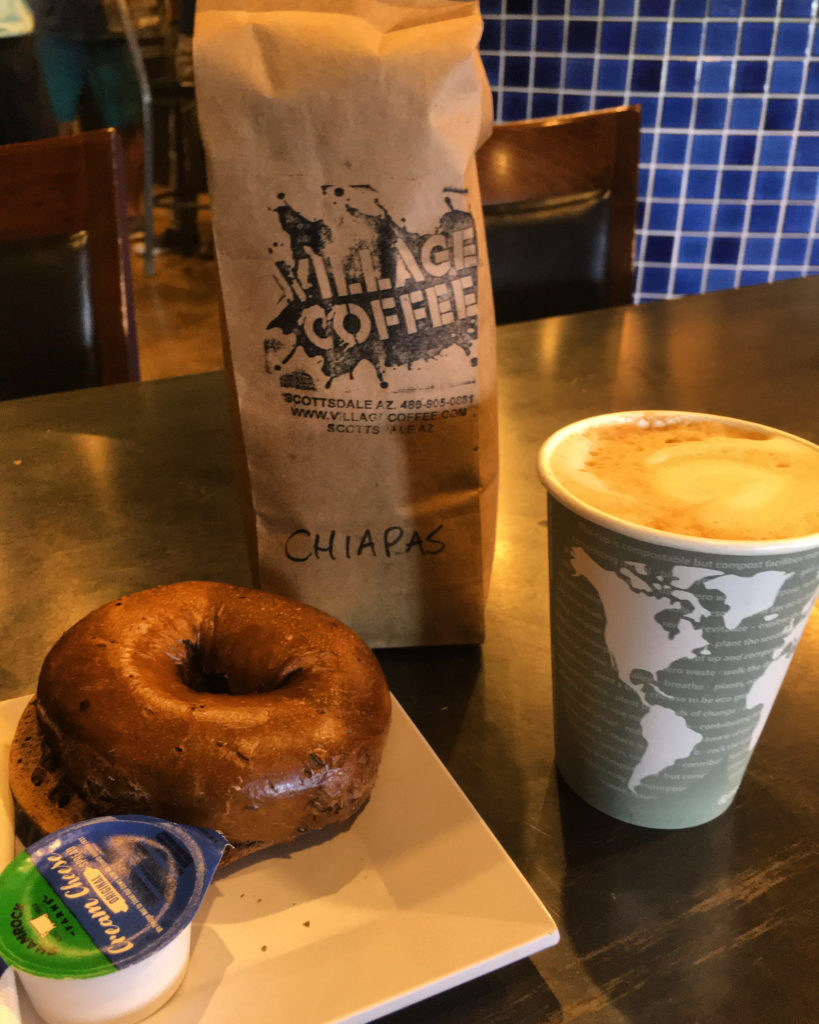 I did get a pound of coffee; it has been the favorite here at CoffeeKen.com. Good comments and thumbs up have been this week's activities. Which is saying a lot.
What else?
The vibe at Village Coffee is great, you know you are in a community coffee shop that is strongly supported by the people who live there. I saw several people meeting neighbors and friends. The staff, in my opinion, really help make this happen, by being welcoming, friendly, and very helpful.
Overall?
I say overall this is a great place to go to. You get a real feel for Scottsdale here, it is not the tourist fare, but the local vibe. A vibe that I greatly like, go check it out.