Spruce Tree Espresso House
Spruce Tree Espresso House in Cortez CO, is a lucky find that you may decide to keep to yourself, like a good secret, but don't! Tell your friends! And everybody else about it! As you can see, I am doing the latter! Spruce Tree Espresso House is located in downtown Cortez, right on Main Street, so very easy to find, and parking is not an issue.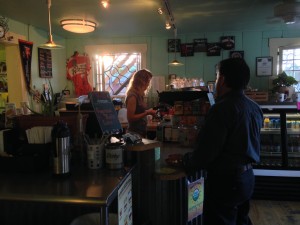 Spruce Tree Espresso House offers a wide range of Fair Trade and Organic coffee and espresso drinks, and if you find you're hungry too, you will most certainly benefit from their wonderful kitchen that makes delicious, healthy and hardy food, right there.
I found the staff at Spruce Tree to be very helpful, and very proud of their skills as baristas, they take great care to make sure your drink is up to their exacting standards, even at 6 am! That is the other reason Spruce Tree Espresso is great, early opening time for people on the move! I like that! Considering that quite a few people start their day early, it is nice to have a quality coffee shop open at such hours.
The décor is fun and funky, with some bold southwest color schemes that work well without being too bold. There is plenty of table space and legroom, and the atmosphere is very inviting, encouraging you to stay and kick back, and engage in some conversation.
For the tourist who is going to Mesa Verde National park, this is the perfect stop for you, easy street side parking, with an additional parking lot in the back. The food is quite good, and the coffee and espresso is top notch. If you are like me, and prefer to support the local shops, and the Spruce Tree Espresso House is worthy of your support!