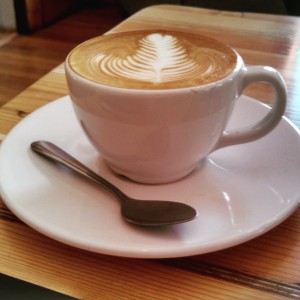 Song Bird Coffee and Tea House in Downtown Phoenix's Roosevelt Historic Neighborhood is in my opinion, the crown jewel of that neighborhood. It is the perfect combination of ease, good coffee, fine food, great atmosphere. and some of the most talented baristas in Phoenix.
"You most go to Song Bird!" I have been told over and over again, since arriving in Mesa AZ. I tried several times to get there, and each time, there was some reason I was not able to get in. From missing the normal business hours to having the doors closed due to remolding, I finally made it, walked in and I was very pleased to discover it was well worth the effort! All the hype and bragging by my friends, and the fans of Song Bird, proved to be true.
This urban oasis offers top notch coffee and espresso drinks, that work beautifully with a menu that changes with the seasons. Currently show casing Cortez Coffee,  I ventured into the dessert menu and was blown away by the espresso and dark chocolate cake, that just happened to be a perfect pairing with my cappuccino.
The baristas at Song Bird proved to be one of the highlights of my visit as well, ensuring I will be back soon, bringing my family, and friends to this wonderful establishment. It all came together, making it a fine experience. It is nice to see Phoenix AZ coffee culture stand on its own merit .
P.S. If you are looking for some local musical talent, Song Bird Coffee and Tea House can fill that need as well,offering music nights on Friday and Saturday nights, check their calendar for more info.