Prismatic Rwanda Dukunde Kawa
Prismatic Rwanda coffee is a wonderful offering from the Dukunde Kawa region, that my family and I found to be quite outstanding, which is high praise coming from us. I, myself normally, am not an avid fan of coffee coming out of Rwanda, but this coffee, how it was roasted, well, it sold me.  Prismatic nailed it just right in my opinion, a nice balance of flavor, and acidity, a slightly darker roast that I found enticing.
Prismatic Coffee is located in Albuquerque, close to Old Town, and if you don't live close to them you can of course, order on line.
Here is what I found:
Aroma:
The aroma of the Dukunde is BIG! The first aroma I caught was freshly baked graham crackers wafting through out the kitchen, and dining area. I then picked up molasses, plum, and walnut aromas that I would not typically put with coffee.
Flavor:
The flavor continued with the aroma, I did taste graham cracker, and walnut. When the coffee cooled down I picked up the plum, and molasses. Adding milk did not change flavor that much, and the molasses and graham cracker became the driving taste.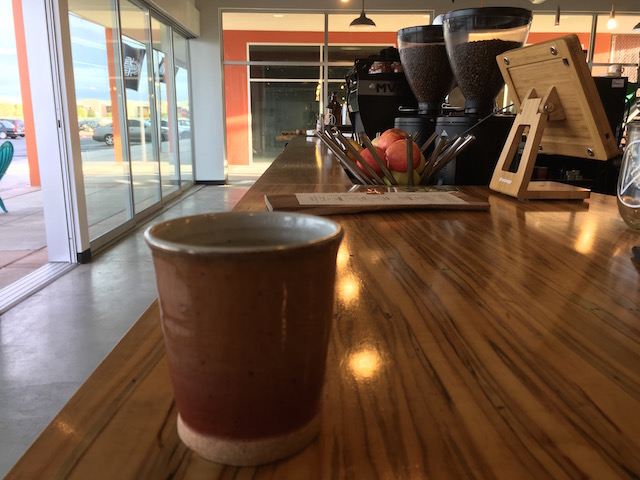 Acidity:
Dukunde's acidity is nicely bright, well rounded with a fruity natural sweetness that made this coffee a very smooth cup with a medium cup life.
Body:
The body is full, very impressive, not too thin or overly thick. It is juicy, and fruit-like, due to the plum flavor notes.
Finish:
I found the finish to be bright, clean and very fresh. The after taste is not long, or fast fading, but just right. The Dukunde did not get sour, or bitter after it sat in my cup for an extended time. It just cooled down, allowing the plum flavor profile to come out more. I loved how this coffee kept delivering pleasant surprises.
Overall:
I am very impressed with Prismatic Rwanda coffee, it changed my mind and made me a fan.