Precision Pours, a coffee house in Louisville CO, is one of those "must go to" places for an espresso drink, especially if you consider yourself an espresso geek, expert, 3rd waver, or a coffee hipster. You must go! Again, you must GO! Brice, the proud owner, and head barista extraordinaire, will make your drink expertly, and artistically. Just answer a few questions about what you like, and watch him work his magic my friends, coffee heaven or nirvana is in your cup.
I have had some really outstanding dry cappuccinos, but Brice of Precision Pours is THE top shelf, no wham bam how many cups that can be poured, but a hand crafted, well thought out espresso drink, and if espresso is not what you are craving, then you are also in luck, Precision Pours offers choice select coffee that is weighed and poured in various methods, so you can enjoy a truly unique cup of coffee.
Precision Pours itself is small but is very well laid out, so you don't notice it and if sitting inside is not your style there is an outdoor seating area that is perfect for you and your dogs, Precisions Pours has bowls of water for your canine friends. Parking is not street side but just to the East of the shop there is a large parking lot and just a short stroll away from your coffee nirvana. And here, they prefer conversation or reading to staring at a screen, so no Wi-Fi.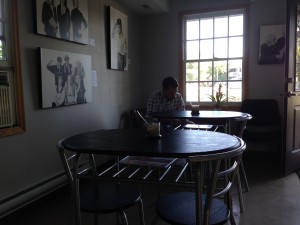 Over all I strongly, and I do mean STRONGLY, recommend Precision Pours. If you even consider yourself a coffee and espresso expert, you must go to Precision Pours and treat yourself, your family, friends and heck even strangers who love coffee and espresso as passionately as you and I do, you must go and have a truly outstanding experience in the world, in the little town of Louisville CO.