Northern Lights Coffee Roasters a shinning light in the Coffee World.
Northern Lights Coffee Roasters a shinning light in the coffee world of Northern Colorado, is perhaps a stellar example of quality micro roasting. They use the method of fluid hot air roasting, which I find more conducive of bringing the real taste profile of the coffee bean. This method is called the Sivetz Fluid Bed Roaster, invented by Micheal Sivetz in the 1970's. A chemical engineer and a coffee industry consultant, Micheal thought there should be a better way to roast coffee without using gas flame, providing a more carbon friendly foot print than most roasters in the industry. He came up with the brilliant idea of fluid hot air at 500 degrees that roasted the coffee with out the bitter tar and acidic notes that are often indicative of drum roasting. The end result is a cleaner, more naturally sweeter coffee. The big plus side to this method is that there less negative impact to the environment. Enough of that though, the bottom line for us here at CoffeeKen.com is the taste, and comparing their offering of the El Salvador to other coffee roasters they aimed for the moon, and landed on Mars. Great job!
Here is what we found.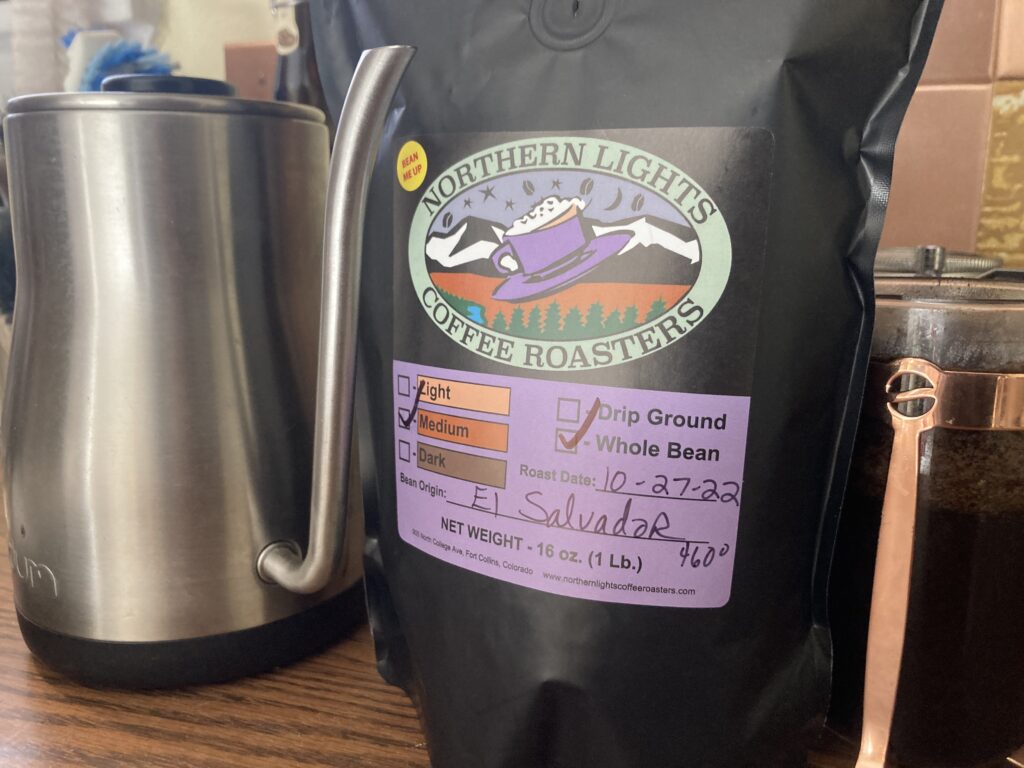 Aroma.
The aroma is very large, and full of chocolate notes, with hints of spice like cinnamon. When I brewed up this coffee in the French Press, I got the familiar aroma of roasted peanuts as well.
Flavor.
The flavor of this roast is quite stellar, full body, naturally sweet and well rounded. We did not get any sour taste what so ever. The chocolate and spice aroma notes carried though in the flavor profile as well as the roasted peanuts. The roasted peanuts were more pronounced when the cup was allowed to cool, (which is hard to do around here). We also sent this coffee through our espresso machine, and it was a thrill to drink as an Americano, or a Cubano, and it also did exceedingly well with all the other espresso drinks, (and we do them all here). We also brewed this coffee in a wire mesh pour over, it was the same quality as the french press. The Chemex with paper filters stripped too much of the flavors for me, so, not my favorite choice. Over all, there is proof enough for us here at CoffeeKen.com that the Sivetz method is a good method for roasting coffee beans.
Body.
Body was spot on as far as we were concerned, not too heavy, nor too watery. A full, well rounded cup. The perfect cup in the Goldilocks zone!
Acid.
The acidity with this roasting method is almost a non-issue here. The natural sweetness comes out and stays in the cup for quite awhile. I let my cup cool down to room temp, and it was still very enjoyable. Beyond that threshold it did get a little bit sour and tart. Most Latin American coffees roasted with a gas or flame usually don't have that much staying power in the cup.
Dairy and food pairing.
We also tested Northern Lights  with dairy and it performed very well, the dairy did not cover up any of the flavor profile, it did enhance the chocolate notes a bit, but it was still recognizable as the same offering. Food pairing, it paired well with everything we threw at it, from eggs and toast, banana bread, peach and strawberry galette, to a tuxedo chocolate cake. It played well with all of them, being the shinning star that it is.
Overall.
Overall Northern Lights Coffee Roasters has an all star here, the best El Salvador coffee to date here at CoffeeKen.