Santa Fe's new icon in coffee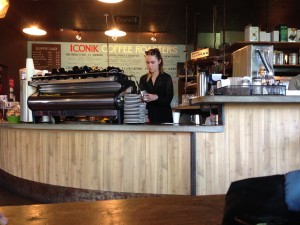 Iconik Coffee in Santa Fe NM is truly an icon for the serious coffee geek, as well as the third wave coffee drinker; they have coffee tech that any self respecting espresso hipster would love! Set back in a quite neighborhood in northern Santa Fe, you will find Iconik nestled in a rather stylish commercial park that just seems to fit right in with its residential neighbors.
IconikCoffee has a well-rounded coffee and espresso menu, and that's not all, they also have a serious food menu, which is fresh made, with locally sourced goods, so you have the best of both worlds. Your coffee is roasted there, and the food is made in a kitchen that is a showcase with equipment that was state of the art, back in the 70's that is. It is great demonstration of a modern retro kitchen that is very tastefully done. The lobby is large and spacious with an array of different sized tables for every need, and very comfortable chairs. The outdoor seating area is nicely landscaped, to help you get away from it all.
The staff is made up of top-notch baristas that know how to get the best out of the coffee being served, from a pour over, or making the dry cappuccino with the milk steamed just right, which is what I had and it was sweet, with perfectly steamed milk.
Iconik Coffee also has the modern retro look, from the minute you walk in the door, and throughout the shop. I was just blown away because what should I see the moment I walk in the door? But a 35 kilo coffee roaster of course! Taking its rightful place, front and center, where everybody who comes in can see it, and touch it, and of course right next to the roaster is a piano where anybody with talent can play!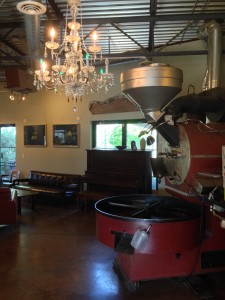 So yes, make the effort to find Iconik Coffee, drink their espresso, and eat their food, and you too, will be talking about it for weeks!