Coffee Treaty 2016, Phoenix AZ
The Coffee Treaty at Mod, a business service in downtown Phoenix hosted a local coffee roaster event. I found the event to be very fun, educational, exciting and a great place to meet all the movers and shakers in the Phoenix coffee culture. There were some coffee roasters there that I personally knew and some new ones that I am glad I met through the Coffee Treaty.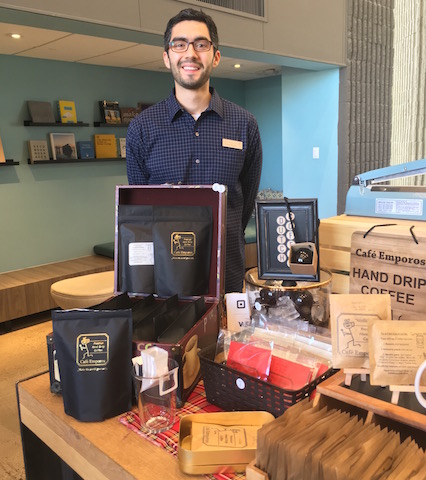 Therefore the big surprise for me was Ruben from Café Emporos, he is on to something big and environmentally sound. I will be posting a review of his product next week, it really does deserve that kind of attention. But back to the Coffee Treaty.
What was Coffee Treaty?
Coffee Treaty was put together to show case local coffee roasters in Phoenix. Cartel, Press, Cortez, Cult and Xanadu were there, showcasing their coffee and answering questions, giving out samples of their selected coffee. Cartel put on a coffee tasting and a cold brew workshop that was very educational. My daughter and her friend were both impressed and learned a lot about the coffee world of Phoenix.
What kind of coffee was there?
Most noteworthy I found cold brew, nitro brew, siphon brew, one serving pour over and chemex brew. They were all great to drink and sample. The coffee was freshly roasted for this event. I was in coffee geek heaven with all this outstanding coffee right at hand by some very talented roasters.
Who put this on?
Coffee Treaty was hosted by Mod and Sunshine and Cacti, they did a fine job putting it together and running it. The atmosphere was laid back very trendy. Mod's lobby and bar area was the perfect setting for such event, Mod had a meeting room set up that was perfect for workshops that Cartel put on.
What was the purpose for Coffee Treaty?
Good question, first of all the purpose, in my opinion was to meet and to get to know local coffee roasters. I found out how they go about their business. How many pounds of coffee they roast, do they have a relationship with the growers? Do they have a coffee shop as well, or do they do only wholesale? That was the gist of it for me, I did get those questions answered, as a result would I go to another one, you bet.
Click here for Sunshine and Cacti link