Carta Coffee Artist Series The work of art in coffee returns.
The work of art in coffee returns this year from Carta Coffee Merchants. This years Artist Series lives up to its reputation as being a work of fine art. As a coffee drinker you will be amazed by the fine quality  of coffee that is grown here in the USA, picked and roasted to perfection.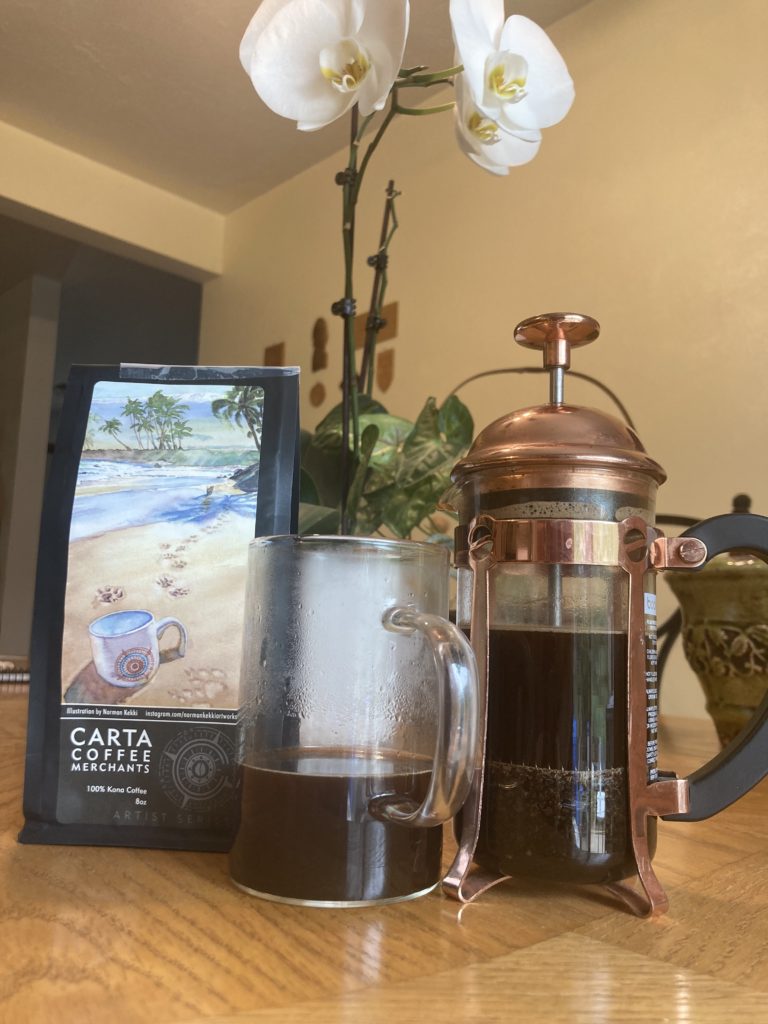 Scott from Carta has again impressed us here at CoffeeKen.com  with the bold, exotic and fruity taste of his coffee. The label art work by Norman Kekki  is once again on top in form of being fine art and still conveying a message of "wish you were here" and yes I wish I was there drinking Kona coffee on a sandy beach and having a local cat stroll by to let you know that you are doing the right thing. 
Food Pairing
Now it is time to tell you why we here at CoffeeKen love this coffee so much. We held a coffee tasting and we put three types of Carta coffee on the table for tasting and discussion. The Captains Roast, Artist Series, and Nolyssa Farms. We set the table with a wide range of food for pairing. The food for pairing was cheddar cheese, apples, banana nut bread with chocolate chips, danish biscuits (vanilla and chocolate), brie cheese  and Vermont white sharp cheddar. Of course we had cream, whole milk and oat milk to add to the coffee as well. 
The tasting
There were six of us sitting, sipping and pairing food with all three types of offerings. There were lots of ohs and ahhhs going on and as the host of this event I had to ask for feed back. There was a brief moment of silence, most of the panel couldn't quickly point out what was their favorite. It was a very tight competition between the three. They loved the Captains Roast for its bold and rich flavor, a great way to start your day cup of coffee. It paired well with all the food and it really shined with the banana and chocolate bread. Nolyssa Farms paired very well with the fruit and cheese, coming to life with the fruit, we deemed it as a great afternoon cup for refreshing yourself.  But the Artist Series became the perfect hostess, it paired well with all the food, changing in taste and flavor profile. It became a wonderful partner to the food we were enjoying, enhancing it. It was great to see everyone's reactions as they discovered the magic of the Artist. There was no sour taste or shoulder shrug of the food pairing with Artist Series, it threw itself into the setting and made a work of art on your pallet. 
As for the dairy and non dairy additives, it was almost an after thought to add them to all the Carta Coffee, which speaks volumes here at CoffeeKen.com. Half my panel always go to the dairy and nondairy first before they sample the coffee. Not so with Carta Coffee's offerings, I had to remind them of their habits. The reports back were quite pleasing, it made all three coffees luxurious dessert coffees that could be enjoyed at any time. So it boiled down to the food pairing as to why the Artist Series is the pick here at CoffeeKen.com for 2022.   
Overall
Overall you can't really go wrong with any of the offerings from Carta Coffee Merchants, it was through the food pairings and a group of coffee lovers that picked Artist Series as their favorite, and through much discussion and of course, more tasting. That is a good sign of the caliber and quality of coffee From Carta Coffee Merchants.