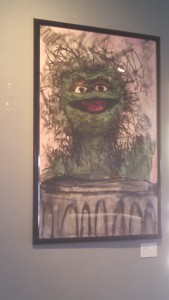 Urban Beans is quite the landmark in Phoenix's coffee culture, and it has earned it through outstanding customer service, and being down right friendly to everybody who comes through the door. My favorite part of Urban Beans is the the coffee of course, but what makes me love this place is the art hanging on the walls. Where else can you find the cast of Jim Hensons Muppets. lovely adoring the walls of a coffee shop. Urban Beans of course! And I think the art sets the atmosphere, I found the Urban Beans to be a homey place to hang out,  get caught up on emails, work, or just chill, taking a break from the hustle and bustle of life.
The coffee menu is quite good, small but very well rounded with a few fancy drinks to encourage your adventurous side to come out, and be richly rewarded for taking that small step outside your comfort zone. Speaking of comfort zone, Urban Beans also serves up fresh made, top quality food, and some rather healthy and equally delicious desserts. To top it off, there is a wine bar! Making the Urban Beans so urban.
I like the setting of Urban Beans, laid back, and full of wonderful people who make up the staff of this fun shop and the other best part is that they are open 24/7. You can get you caffeine fix and make your sweet tooth happy any time of day.