Prismatic, a new colorful way to see coffee
Prismatic Coffee Company is Albuquerque's new third wave coffee shop and coffee roaster. For the coffee and espresso purist this is very good news indeed. Prismatic offers up just coffee and espresso drinks, no syrups, or tricked out espresso drinks, just plain coffee and traditional espresso.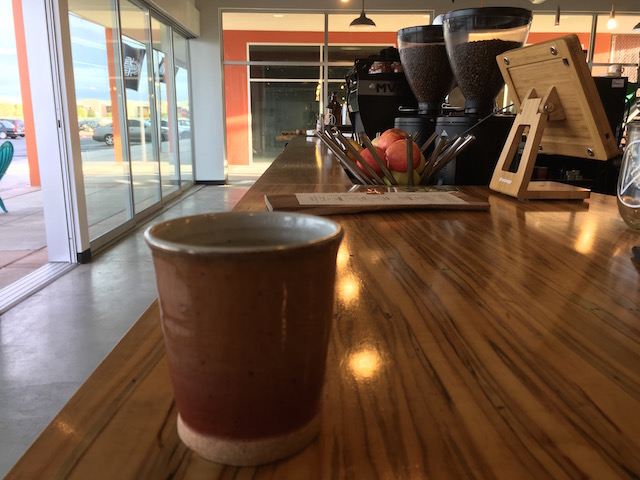 What makes Prismatic different?
Prismatic is located in the up and coming industrial urban section of Albuquerque, so this shop has very clean lines and minimal decoration. Perfect setting for a third wave coffee shop and coffee roaster. Being in the urban industrial part of town, Prismatic has a store front on the bottom part of a newly renovated saw mill. There is two stories of tenants above them, so there is a sense of community going on, Prismatic is part of the social fabric. The tenants and Prismatic has a vested interest on the well being of their neighborhood.
What is "Third Wave"?
Third Wave describes the movement of some coffee roasters and coffee shop owners of roasting and severing coffee straight up. First of all you will not find syrups for your espresso drinks, nor half and half for your pour over. It is just outstanding coffee served up by expert baristas. If you go there expecting sugar loaded espresso drinks like this is not your place.
How was the coffee and espresso?
Both were outstanding, the espresso had an excellent flavor profile and the coffee was superior. The roast on the coffee was perfect to achieve the best flavor profile for the pour over method. The espresso had a very naturally sweetness to it, so the need for sugar and syrups were not needed.
Overall?
Overall I will say this about Prismatic, it is a perfect place to hang out in, get some home work done, drink some wicked good coffee and righteous espresso. Prismatic is close to Old Town Albuquerque, should you feel incline to go there after your caffeine fix.Most of all are you a purist of coffee and espresso? Then this is your shop and your new friend in the coffee world. Albuquerque is very lucky indeed.