Peaberry Select, Meru's Coffee best.
Meru Coffee: Peaberry Select when you think of cities and the coffee roasters that have a large market in those cities, such as Starbucks in Seattle WA, Stumptown in Portland OR, Bluebottle of San Francisco CA, and Intelligentsia in Chicago IL, there is a certain coffee flavor in mind when you visit, sitting at a street café, drinking coffee. You use that preconceived notion as a standard to judge all the coffee you are drinking.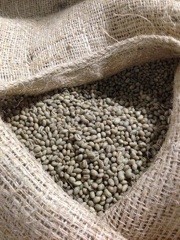 Lately I have had those notions altered, as I have been drinking some outstanding coffee from Chicago. Not a major roaster, but rather a small coffee company that has some of the best coffee from Tanzania, and are very proud of it. Moreover, after tasting it, I now know why. The little company is Meru Coffee, and if you are by any definition a coffee purist, or perhaps a person who just loves a good cup of coffee, you have to drink this amazing coffee. The richness of the flavors and the body of the coffee leaves me searching for the right words to describe what I am drinking. I know a lot has to do with the roasting of the coffee, but I believe it also has to do with the raising of the coffee, how it is picked and ready for market.
The coffee is cultivated on the slopes of Mount Meru, along with other crops on these fertile slopes, and harvested at exactly the right time. The coffee I am talking about is Meru's Tanzania Peaberry Select
The Peaberry Select is a medium roast with sweet citrus notes, and a very clean finish, making this one worthy of having on your table, breakfast and noon, and a solid choice for dinner and dessert. There is no bitter aftertaste as it ages in your cup. The aroma of this coffee starts when you open the bag, and continues as you pour your last cup. You will be shaking your pot to see if there is more.
The body of the coffee feels good in your mouth, and is quite lively on your tongue, giving you all kinds of exotic tastes you can only find in Tanzania. The Peaberry Select is refreshing, and I enjoy starting my day with it, and perhaps even indulging with an afternoon cup.
Meru's Peaberry Select is an excellent choice to represent the fine coffee that comes out of Tanzania, and is now my new standard for what coffee in Chicago should taste like.