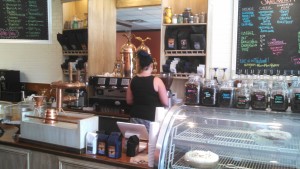 Letha Mae's  is San Tan Valleys' newest coffee establishment offering rich, fresh baked goods along with excellent coffee and espresso.
Letha Mae's came to my attention via Facebook, as an invitation to come in, try out their coffee, and hang out for a while. We did just that on a pleasant Saturday afternoon. I walked into Letha Mea's and was impressed by the rich decor, and the layout of the shop. If my grandmother would have opened a coffee shop, it would have been like this, classy and comfortable. The decor is modest, with style and elegance, creating an carefully, thought out atmosphere. I loved it.
The menu is full of quality, comfort foods, made and baked fresh, right there. The coffee and espresso drinks are equally thoughtful and carefully crafted. I had an excellent dry cappuccino that was done to perfection, as well as a slice of fresh made carrot cake, I find worthy of bragging about. My assistant had a BLT, and a honey iced latte that was very refreshing and yummy. We were both very impressed with the service, and how well everything was managed, especially when a rush of people developed. The barista did an outstanding job, keeping the drinks and food flowing, and no one was left standing wondering if they would be acknowledged. I see why this place is doing so well, and why the people I spoked to love it.
The coffee is roasted right there, too, fresh and very good, under the brand name of Black Anchor, with a maritime theme going on that I find very amusing and clever. To all my coffee  and espresso drinking friends, rejoice there is shop worthy of going to in the San Tan Valley.