Kauai Coffee, Red Catuai is a great way to get started with Hawaiian Coffee.
Kauai Coffee, in Hawaii, is a great company to order coffee from. The online service is quick, and easy to use. What makes Kauai Coffee stand out from the rest is the wide selection of coffee grown there. Kauai Coffee offers walking tours that are free to the public, and a shop that has free coffee to drink. They are the largest coffee producer in the United States. I became aware of Kauai Coffee after my sister in-law brought home a sample bag and a T-shirt of the Hula Girl that is their icon. While coffee did not last long, the T-shirt has a special spot for me, so much so that I don't wear it often because I want it to last forever, and I really love the T-shirt.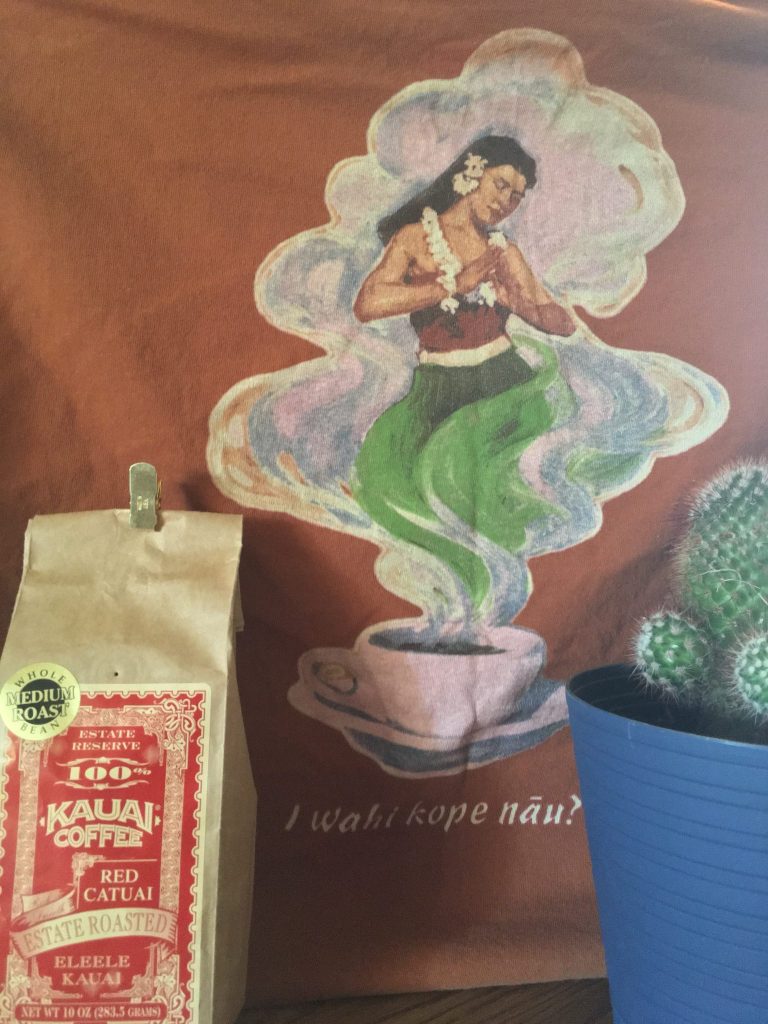 You can find Kauai Coffee in most of the Kroger and Safeway food stores that is ground, and ready to brew, but me, being a coffee snob, I like my beans whole, so I ordered them on line, and believe me it was well worth it! You have access to a wide selection of coffee that you cannot get in the stores or at their visitor center. What I got the was the medium roast of the Red Catuai from Eleele, which itself was a wise choice on my part, everybody here drank some and were very much impressed with the coffee. I prefer a dark roast, but this coffee was right on the mark for everyone, including myself.
Here is what I found.
Aroma:
Red Catuai aroma is big, full of rich earthiness and cardamom. I also picked up a hint of cedar and slight smokiness. When I added water the cardamom became the clear aroma, followed by the earthiness.
Flavor:
The main flavor of Kauai's Red Catuai coffee is the cardamom, which is nicely balanced with the other flavors of earthiness, cedar, and the fieriness of the volcanic soil. I found this coffee to be very smooth and mild, not at all overbearing, and naturally sweet.
Acidity:
Very mild and sweet, not harsh but smooth and soft with a nice clean finish without a lingering aftertaste.
Body:
Full and impressive, not heavy or creamy, a very nice mouth feel, it was very much alive for me without it being juicy, or watery as well.
Finish:
A really outstanding finish, clean and crisp, well balanced, fresh, and well rounded. There was no lingering flavor of earthiness or of the cardamom which sometimes ruins most Asian Pacific coffees.
Overall:
This a great coffee to get started with if you are interested in coffee from Hawaii, would make an excellent gift, or you want something that you cannot readily find that is very exotic without being funky, or needing to acquire a taste for. Kauai's coffee is just flat out excellent! I can't really say anything more.