Bergies Bali Kintamani Organic
Bergies Bali Kintamani Organic a coffee that catches you by surprise! I found it to be naturally sweet, full of fruitiness, with some wonderful brown sugar notes as well. This alone makes the Bali a must have coffee to keep on your shelf. The other reason is that there is only a limited supply at Bergies. Here is what I found.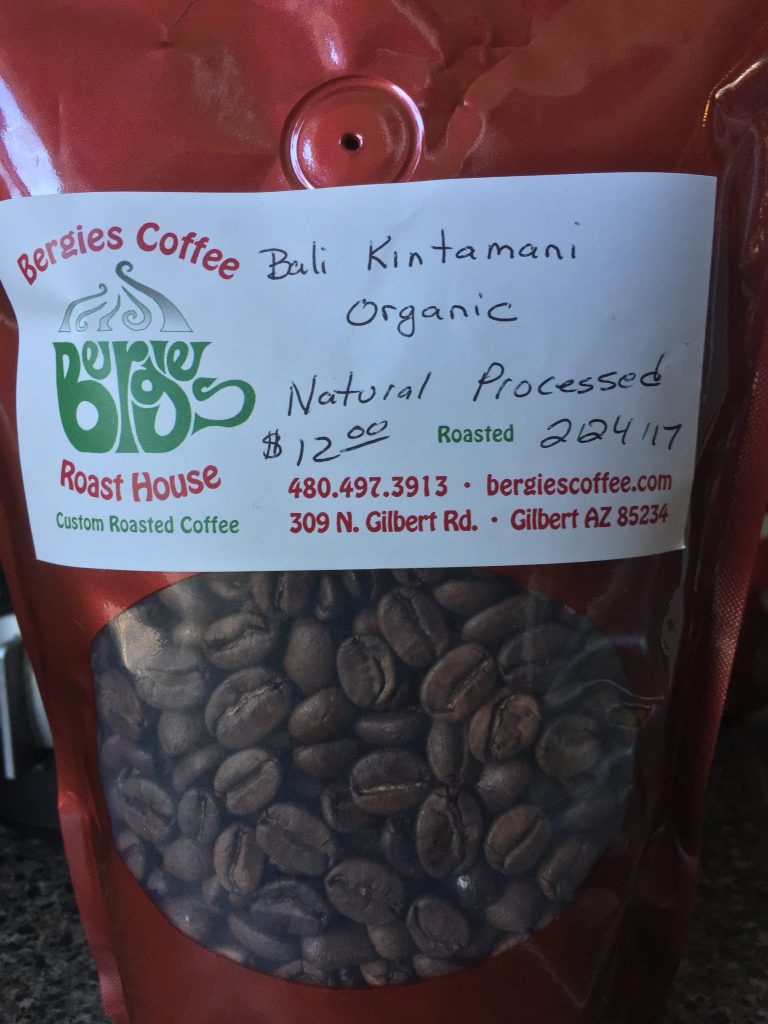 Aroma:
The aroma of the Bali Kintamani is loaded with the smell of strawberries and brown sugar, giving tantalizing hints of dark chocolate and hazelnut. Not to mention the unmistakable aroma of earthiness which is the hallowed trademark of an Asian Pacific coffee.
Flavor:
The flavor is very fruity, with strawberry, and rounded out nicely with brown sugar and dark chocolate.  The earthiness is a secondary flavor, but it does not detract from the overall enjoyment of my cup. You will also notice that this coffee is naturally very sweet.
Acidity:
The Kintamani is nicely balanced between naturally sweet, and smooth, providing a nice medium presence. Not to heavy or light.
Body:
I found the body somewhere between buttery, and creamy, and impressively smooth. While full and thick, and not watery, thin, or too heavy.
Finish:
The finish of the Kintamani is full of fruit, and somewhat long lasting in the cup. There is no bitter aftertaste, but a well-rounded cup of coffee that has a little bit of everything, for everyone who enjoys an exotic cup of coffee.
Overall:
Over all? I definitely recommend this coffee to everyone! it is a coffee that has everything right, for all the people who drink coffee, and even for some who don't. One of our friends tried it and was amazed it was coffee that was not loaded up with sugar or syrup, but was naturally sweet and full of wonderful flavors. She thought she was drinking tea instead of coffee, quite the complement. So get to Bergies and get some of the Bali Kintamani before it is gone!